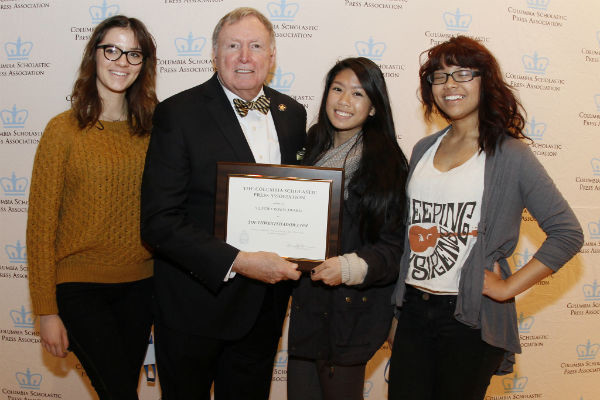 After being designated as a 2014 High School Digital Publication finalist, the staff of the Southwest Shadow attended the 90th Scholastic Convention to accept their award at Columbia University in New York, NY. The Southwest Shadow is now part of the top online news sites in the United States.
"I am extremely proud of all my current staff members, and past staff members, who have worked long hours to make our online news site the best it can be for the community we serve," adviser Mr. Matthew LaPorte said.
The Awards Convocation Ceremony for Scholastic Recipients took place on March 21. Executive director of the Columbia Scholastic Press Association Bruce Watterson presented plaques to the announced winners.
"Even though we have such a small staff, we proved great measures by ranking as one of the 10 finalists in the whole country. It really was a great achievement for the Southwest Shadow to receive silver and leaves me in hopes for that NSPA Pacemaker award in April," columnist Brittnie Truax said.
This year, roughly 1,236 digital, newspapers, magazines and yearbooks published during the 2012-2013 school year were eligible for judging in the 2014 Crown Awards Program.
"Since I've been in journalism, I've been graced by the presence of other student journalists around me. Now, three years later, we won the CSPA Silver Crown and it's still surreal to think about how far we've come. I take pride in nothing more than being editor-in-chief," EIC Alexandra Nedelcu said.
Students who attended the conference participated in a variety of workshops ranging from social media to improving their writing skills at Columbia University. The staff of the Southwest Shadow also toured Times Square, watched Bullets Over Broadway and Matilda on Broadway, and strolled through Central Park.
"This trip definitely brought us closer as a staff, and I enjoyed it while it lasted. I'm glad I was able to experience my first time in New York City with my second family. The inside jokes will never be forgotten," Truax said.
Since 1925, the CSPA have been uniting student journalists and faculty advisers at schools and colleges through educational conferences, idea exchanges and award programs.
"Seeing the journalism adviser of the year speak was a great honor. Being at the top journalism school in the US made it all real," Nedelcu said.