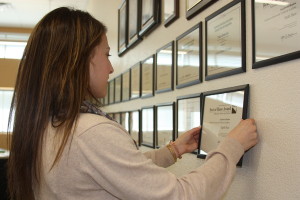 The Southwest Shadow has been, once again, nationally recognized by the National Scholastic Press Association and the Columbia Scholastic Press Association.
"Winning these two awards is absolutely incredible, considering we worked so diligently in order to stand where we are today. I can only hope we set the standard for years to come, and that we achieve nothing but greatness," Southwest Shadow Editor-in-Chief Bserat Ghebremicael said.
The NSPA gave the Southwest Shadow 3,976 points for the Southwest Shadow website critique, thus they are now designated as an All-American Publication. This award symbolizes how the staff succeeded in the five marks of distinction: design, navigation, writing and editing, graphics and lastly interactivity. Also, judges from the CSPA critiqued the Southwest Shadow and claimed it gold medal worthy.
"It feels great to be part of a nationally recognized news site. It makes my hard work feel worth something," sophomore Bailey Jones said.

Loading ...
Members are now aiming to be recognized as Pacemaker finalists, which is another opportunity for members of NSPA to be recognized nationally. The staff plans to working diligently and more stories are being written in a timely manner in order to achieve the goal.
"Winning made me realize that I am a part of a group that is serious about what they do and it shows in the long run," sophomore Estefania Cervantes said.
Some of the other awards that the Southwest Shadow has recently won are "Best News Website" at the 2011 and 2012 Las Vegas Review Journal Awards and "Best in Show – Eighth Place" at the 2012 NSPA/JEA San Antonio Conference.
"Winning is not the purpose of our existence on campus, as we are here to provide information that educates the student body and the community. But, recognition in any form, whether an award or a kind word, is never terrible," Southwest Shadow Adviser Mr. Matthew LaPorte said.