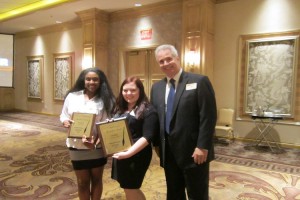 The Southwest Shadow won "Best News Website" for the second consecutive year at the 36th annual Las Vegas Review Journal 2012 High School Journalism Awards on Monday, May 21st, 2012.
"We worked so hard this year preparing for the awards and I couldn't be happier with the way it turned out. I believe we definitely deserve it," said junior Marina Triplett.
Additional individual awards were earned by several Southwest Shadow staff members.
• Elaine Wong earned a third place award for "Best News Story" for her article, "Food vendor dismissal eliminates fundraising opportunity, additional lunchtime options."
• Rochelle Mae Ruiz received an Honorable Mention for "Best Editorial Cartoon" in her series of "just cRUIZing around" cartoons.
• Michelle Manuel won third place for "Best Entertainment Story" for her article on local Las Vegas band, "Ai, the Identity."
• Jordan Sutton won first place in the "Best Feature Photo" category for her accompanying photo of Christopher Van Inga and his performing companion, Phineas, to the feature story, "Meet Phineas: genius with feathers."
• Tazia Statucki placed second for her story "Plate Perfectionist" in the "Best Opinion Writing/Humorous" category.
• Bserat Ghebremicael received third place for "Best Sports Feature" for her story "Tough Enough: Meet Roy Badillo and Xavier Bauer" and she was also awarded "Most Valuable Staffer" for our newspaper.
"I'm really proud of my fellow staff members for all the hard work they have contributed to our publication this year. I'm ready to work twice as hard next year so we can move onto winning National Awards," said junior April Bitanga.
Currently the Southwest Shadow is planning on re-launching the school's online newspaper with a new look and various new features for the 2012-2013 school year.