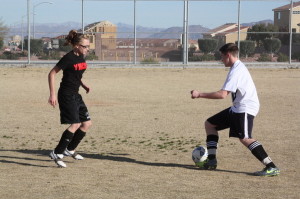 The 2012-2013 co-ed soccer team has been practicing on the school fields since January 7. Soccer coach Edgar Morales is preparing the team for tryouts by holding practice everyday after school from 1:30 p.m to 3:30 p.m.
"Tryouts will be a two week process. The first few weeks of January,  the soccer players will be getting into shape and during the last week, we will do drills and other activities to choose who will be on the soccer team for the 2012-2013 school year," Morales said.
There is no set date for tryouts yet, but they will be held the first week of February. Morales will be choosing players based on skill level and teamsmanship.
"We haven't really seen a lot of players so far but I think that once the season starts and tryouts come about, that we're going to see some true talent and have an idea on how well we will do this season," sophomore Zachary Bourbeau said.

Loading ...
The soccer team is in a special league that only plays against other CTAs and is not an official league. Each team will be playing three games once the season officially starts. The games will be against Northwest Career and Technical Academy, East Career and Technical Academy, and West Career and Technical Academy.
"As team captain this year, it is my responsibility to push my team to the limit to ensure that we perform well and represent our school the right way. Let's get this season started," senior Juan Candido said.