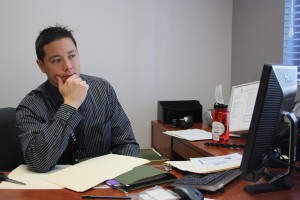 Recently appointed as dean of students, Mr. Alan Yee experienced his first day at Southwest CTA on Nov. 1.
"My first day here at Southwest was phenomenal. I was nervous and lost, but the students have been very helpful and the staff has guided me in the right direction," Yee said.
Yee worked previously at Garside Junior High School for seven years teaching pre-algebra, Algebra I, and was also the head basketball coach for girls and boys basketball.
"I am excited to work with teachers and support them and observe and assist the variety of different clubs and programs at this school. Southwest is already an amazing school and I want to continue the success here," Yee said.
After viewing the campus and meeting some students and staff, Yee wants to be part of the success and greatness at Southwest.
"Southwest is a five-star school and the students and staff here are awesome. I plan on pushing the limits and thinking outside of the box to continue the success here at Southwest," Yee said.