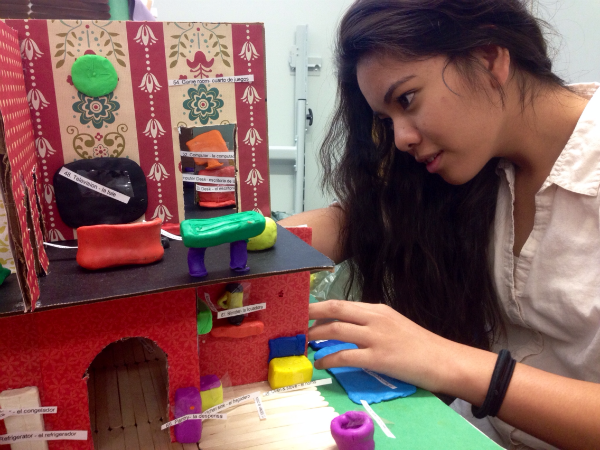 Students in Ms. Geri Barnish's Spanish II class exercised the Spanish vocabulary they've learned throughout the year by creating Spanish style model homes.
"We had to make over 100 pieces of furniture. We also had to label every single piece of furniture we made in the houses," sophomore Rachel Oh said.
Working in groups of three, the students had only a week and a half to finish their creations. Creating multiple rooms, floors and outside areas in their houses made more space to display their furniture.
"I burned my finger three times with a hot glue gun trying to glue labels onto my project. To this day my finger still hurts from the glue, so I better have one of the best looking homes!" sophomore Isaac Landis said.
Having only two weeks to complete the project, teams rushed to complete their homes using many different types of materials, such as wood, foam and clay. During the process,  teams faced multiple challenges to meet their deadlines.
"We didn't realize it was polymer clay, and we baked it," sophomore Sydney Lapira said. "When it came out of the oven it was like soup, so we had to start over."
The Spanish II students also utilized their family members to help complete their projects by helping them create new furniture pieces for their homes. At the end of two weeks, household items such as lamps, magazines and even light switches were created.
"After our first failure, my group members and I made our younger siblings help out by creating furniture. Not all of them were good, but at least they tried to help out," Lapira said.