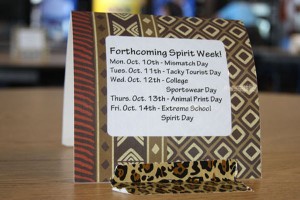 From Oct. 10-14, Southwest Career and Technical Academy will hold its first spirit week of the year. Student council members picked four of the spirit days, and students voted for Monday's dress up day on the Southwest Shadow website.
"We hold spirit week to raise the students' spirit. Since we are always wearing uniforms, it is fun to see people dressed up in wacky outfits," says Student Body President Lacey Long.
The spirit days include Mix-match Day on Monday, Tacky Tourist Tuesday, College Sportswear Day on Wednesday, Thursday is Animal Print Day, and Extreme School Spirit Day on Friday.
"I am excited for spirit week. I think it gives individuals a chance to express their own unique style," comments junior Le Mai.
Definitely be on the lookout for some wacky and going all-out dressers and see below for some easy ways you can participate!
Spirit Day Ideas
Mix-match Day- Two different color socks, Two different shoes, dress shirt with sweats, Tye-dye and floral prints
Tacky Tourist Day- Fanny pack, cargo shorts, a camera, sunglasses with neck holder, tropical button up, high ankle socks, tennis shoes
College Sportswear Day- Sports jersey, sweat bands, tennis shoes, t-shirt with logo
Animal Print Day- Cheetah, zebra, giraffe, leopard, animal print gloves, shirts with animal logos
Extreme Spirit Day- Class shirts/sweatshirts, club shirts/sweatshirts, SWCTA lanyard, coyote bands, anything black, grey, and copper