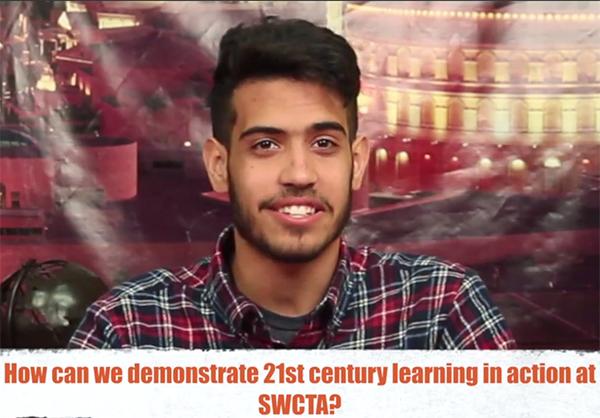 The annual Spring PBL will be held from March 25 to March 26. The event is named "21st Century Skills Amazing Race' as students will be completing tasks of various disciplines, similar to the television show.
"The PBL is a race around the school to help students think about 21st century skills and how they are applied in every class," U.S. History instructor Pate Thomas said.
Students were placed into randomized groups to answer the driving question of, "How can we demonstrate 21st century skills in action, here in SWCTA?" Freshmen, sophomores and juniors will be completing the PBL challenge, while the seniors will be working on and presenting their capstone projects.
"The culminating product of the PBL is a presentation for students to realize how much 21st century learning is happening at this school," English 11 instructor Mr. Robert Davis said.
Previous PBLs focused on activities based on program areas, while this year, the "Amazing Race" is based on core classes.
"We wanted to give students a choice in their activity and give them the opportunity to experience 21st century learning in all of the core areas and get the kids moving," Davis said.
After all tasks are completed, there will be a classroom winner, which will be chosen by the classroom teacher. Winners from each building will then be chosen by administration. These winners will be featured on Rout(e) 131, so that the student body can choose the overall winner.
"I can tell my group members are determined to take on whatever this PBL throws at them. We're ready to lead and win this race, no matter the task," junior Khloe Faria said.
Overall winners will be awarded with all-day passes to the Adventuredome Theme Park.
"I don't know anyone in my group, but hopefully we'll get to know each other in the next two days. I'm a bit nervous about the PBL because I don't really know what's happening, but I'm excited to see how well my team and I are going to work together to win the prize," sophomore Molly Ly said.
Students are advised to bring their personal electronic devices and a writing utensil, and wear comfortable clothing. Any questions or clarification about the PBL can be submitted and answered on todaysmeet.com/AmazingRace.
"I'm excited because it's not only a good way to learn, but also to get an insight of what the seniors are doing and what we'll have to do when we're seniors," freshman Ramsey Gomez said.