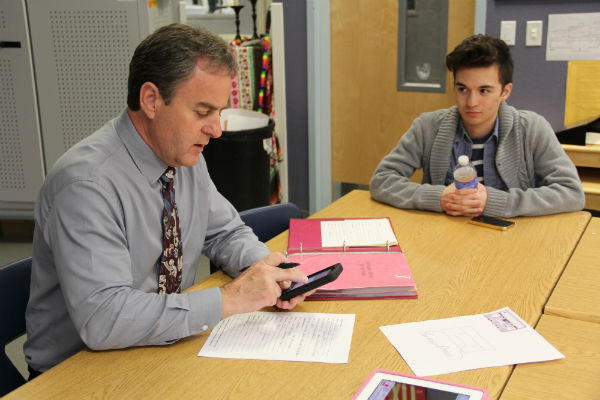 Student Council announced the Battle of the Sexes and Sadie Hawkin's Dance theme to be "The Rad 90's." A vote on the spirit days will take place at Coyote Congress on Feb. 7.
"Coyote Congress is a chance for students to choose what spirit days they want. Hopefully more students will come with more ideas," Class of 2016 Vice-President Mekha Omarimuhammad said.
The Sadie's dance will take place on March 1 on campus from 7-10 pm. Dance tickets will be on sale during both lunches beginning Feb. 19 at the price of $15. The cost of the ticket at the dance will be $20.
"This is the last year that high school students will have all been born in the 90's and it gives us all something in common," Student Body President Mia Driscoll said.
Students who attend the Coyote Congress will be given the opportunity to vote on the spirit day for Monday and submit spirit day ideas. Spirit Day suggestions will be taken into consideration by the council and voted on for the rest of the week. Friday's spirit day is Pink vs. Blue.
"I'm excited to see everything come together: the dance, assembly, lunch games, and spirit week!" Class of 2016 Treasurer Angelica Mayor said.
In addition, the Battle of the Sexes week will take place from Feb. 24 to March 1. Paperwork is available in the community partnership office and library, as well as in class advisor's Mrs. Laura Penrod, Mrs. Jennifer Brant, and Mr. Justin Locklear's rooms.
"Battle of the Sexes is going to be amazing this year! And I'm not just saying that as the leader of logistics. I can't wait to see the enthusiasm students will bring on the game field!" Student Body Treasurer Alyssa Mayor said.
Paperwork for Battle of the Sexes registration is due Feb. 13 at 2 pm to Mrs. Miriya Julian's room in D102. The $10 fee includes the wristband to participate in lunch games and a Battle of the Sexes t-shirt.
"I can't wait to be a part of Battle of the Sexes this year! It looked like so much fun last year," sophomore Alyssa Bui said.