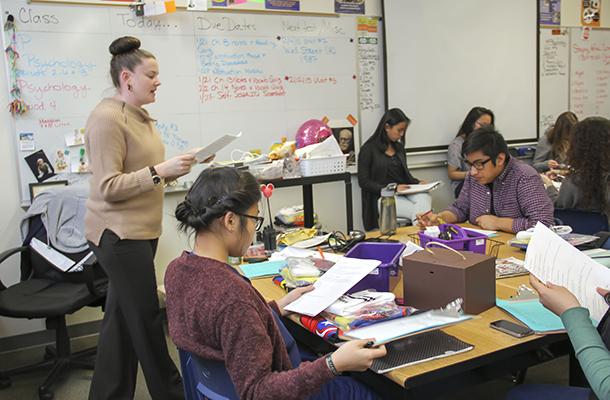 "Game On" was announced yesterday as the theme of the fifth annual Battle of the Sexes and Sadie's Hawkins dance. Spirit Days will be voted on during Coyote Congress on Feb. 6.
"We don't have spirit days yet, but we will have those final by Feb. 9. The format is the same: Monday is dodgeball team sign-ups, Tuesday is kickball, Wednesday and Thursday are the two-day dodgeball tournament, Friday is the assembly and Saturday is the dance," StuCo adviser Mrs. Miriya Julian said.
The Sadie Hawkins dance will take place on Feb. 28 on campus from 7-10pm. In previous years, the dance only included music, food and beverages. To incorporate this year's theme, the dance will also include games for students to play.
"I really hope this year that because we're doing a dance plus a game night that we're going to attract students who don't regularly come to the dance, especially guys who won't go as a group to a dance," Julian said.
Games will be situated inside the gym, while the dance will occur inside the cafeteria. Food and water will also be provided for the students.
"We're teaming up with the Engineering Club who usually does game night. We haven't worked out the details yet, but we are trying to get a variety of different games," Student Body Treasurer Angelica Mayor said.
StuCo's Dance Commission will be meeting on Jan. 29 to discuss final decorations.
"For the Battle of the Sexes week, we make sure all the aspects match and go together. For instance, the assembly theme matches the lunch games and the t-shirts. The dance sort of matches everything and ties it all together to decorate for this year's theme," Dance Commissioner Mekha Omarimuhammad said.
Tickets will go on sale beginning Feb. 18 at the price of $20. Battle of the Sexes participants will be able to buy their tickets at the discounted price of $15.
"I think it's a great idea that those who participate in the Battle of the Sexes can get $5 off because they already paid $10 to take part in the games," Class of 2018 president Ramsey Gomez said.
Paperwork is available in the library, Mrs. Julian's room (D102) and Mrs. Laura Penrod's room (C124). Registration and $10 fee is due to Mrs. Julian on Feb. 6 by 2 pm. Students will receive a wristband to participate in the lunch games and a Battle of the Sexes t-shirt.
"The 'battle' part of Battle of the Sexes is really prevalent this year. I also love how we're going to be able to have a dance and game night together this year. It just seems like it's going to be a very fun week overall and I can't wait," selected member Maryam Ahmad said.