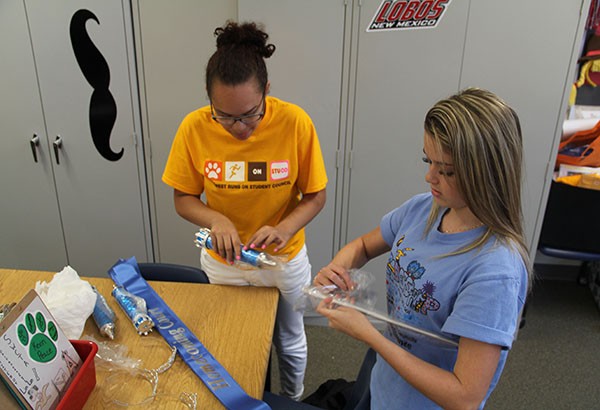 Student Council will be hosting the  "Secret Garden" themed homecoming dance on Oct. 18 from 7 p.m. to 10 p.m. at the Panos Hall Courtyard. This is the same location that hosts the annual Las Vegas Greek Food Festival each year.
"I have never been more excited about a dance. The theme is absolutely perfect and it fits the venue beautifully. There's even a fountain," Dance Commission member Brittany Grossi said.
Due to the outdoor venue, an unlimited amount of tickets will be on sale beginning Oct. 8 during both lunches in the cafeteria for $30 and students must present their student ID in order to make the purchase.
"I think homecoming is one of the best opportunities to make an unforgettable high school experience and I'm excited to see all of my friends get homecoming proposals," freshman Alexa Dizon said.
Additionally, dance tickets can be purchased at the venue door on homecoming night for the full price of $35 and all students must bring their student ID or the ticket receipt to enter the dance.
"I am so stoked for homecoming not only because it's my first time attending a dance, but because I get to spend it with a bunch of my best girl friends," junior Kayla Dalope said.
Nominations for homecoming court will begin on Oct. 6. Students can make more than one nomination, but all nominations must be made with a payment of $1. The top three students with the highest number of paid money nominations will be elected for homecoming court per grade level. From there, students will use Voting for Schools, an online voting system, to determine the official homecoming royalty court.
"It's fun to run for homecoming court because you get a lot of recognition. This year, the homecoming king and queen will get a crown that lights up so they're going to look really good," Assembly Commission Member Andy Huynh said.
Spirit week will take place Oct. 13-17, with the annual homecoming assembly and DA vs. PA flag football game occurring on Oct. 17. The spirit days are still being determined, however, students who attend Coyote Congress on Oct. 3 will be given the opportunity to voice their suggestions.
"During the spirit week, we'll be playing crazy and enjoyable lunch games that are related to upcoming holidays like Halloween. They'll be able to win games and have a lot of fun. The whole point of the week is to prepare the students for the dance and get them pumped up and ready," Lunch Games Commissioner Lindsey Zangler said.
Students who wish to bring a date from another school must complete a guest pass form, which can be retrieved from Student Council adviser Mrs. Miriya Julian or class advisers Mr. Jared Ogden, Ms. Veronica Whiton, Mrs. Laura Penrod or Mr. Joshua Locklear.
"I'm excited for this year's homecoming because this time I'm spending it with my friends instead of traditionally going with a date. I can't wait for an amazing experience," junior Melanie Pascual said.