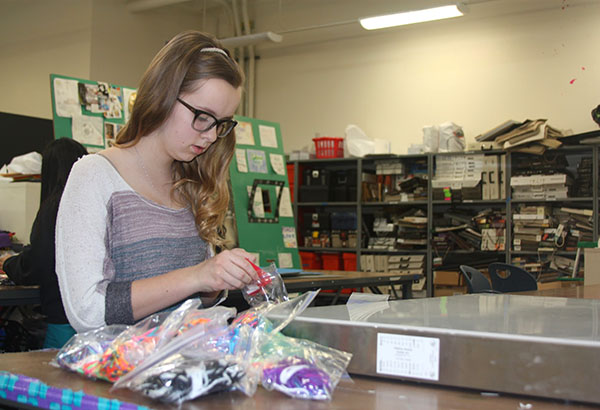 To raise awareness for Random Acts of Kindness Week, Student Council (StuCo) created approximately 1200 warm fuzzy necklaces to distribute to students on Feb. 9.
"Over a month ago, we started making them [warm fuzzies] and we haven't stopped making them and we're really hoping that people have a lot of good things to say about each other and just a lot of positivity on campus," StuCo adviser Miriya Julian said.
Students who signed up with StuCo members were able to receive their necklaces during their seventh period classes.
"We did this in council and we wanted to bring the experience to the whole school body. It helps bring joy and kindness and hopefully it will spread throughout the week," Junior Representative Mekha Omarimuhammad said.
The story behind the warm fuzzies, "The Original Warm Fuzzies" by Claude Steiner will be played during the morning announcements in three parts. The first part of the story was shown on Feb. 9 and the last segment will air on Feb. 11.
"The story shows how compliments and kindness can go a long way to make someone's day bright, which is perfect for this week. We want to spread the kindness through these warm fuzzies and by giving each other as many compliments to show our appreciation,"  Student Body Secretary Maggie Chang said.
Students who have received their warm fuzzies are encouraged to start wearing their necklaces after the third segment of the story airs on Feb. 11.
"The whole point is to tie a warm fuzzy [a three-inch piece of yarn] on the necklace of a friend, teacher or anyone who has a warm fuzzy necklace and give them a compliment. Student Council's goal is to spread kindness all throughout our school, and hopefully this will inspire them to reach out beyond just our campus," Junior Class Treasurer Vahina Li said.
Those who did not obtain a warm fuzzy necklace are able to receive one by asking any StuCo member.
"What may just seem as small and insignificant as a strand of yarn could carry the weight of someone's world. Warm fuzzies ensure that feeling of belongingness because when you give someone a compliment, they are more confident and comfortable to be themselves," Student Body President Rachel Martinez said.
In addition, positive words printed on vinyl have been posted on the doors of each building to promote positivity for Random Acts of Kindness Week.
"The positive words are a great way of reminding students to be nice to one another, and hopefully when people read them, it brings a smile to their face because the whole goal of this week is to make people happy and spread positivity," Class of 2018 President Ramsey Gomez said.