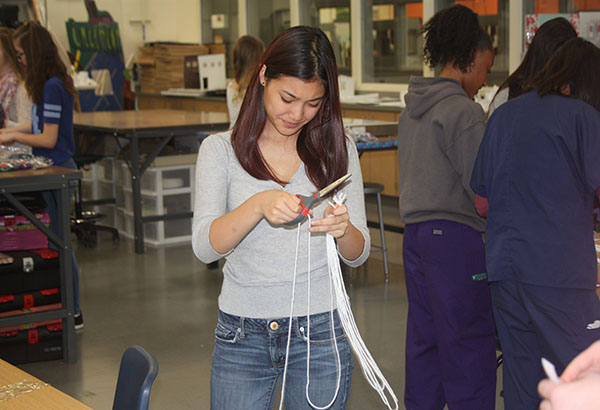 After a week of campaigning and online voting, the Student Council office for the 2015-16 school year has been elected.
"I'm looking forward to working with the new people joining Student Council! I love to see new faces and see new personalities to bond with. The campaigning process was definitely fun and hyped because just advertising myself means I met new people, and I'm making new friends in such a small way," Class of 2018 President-Elect Ramsey Gomez said.
Student Body
President: Rachel Martinez
VP for DA: Samantha Cruzado
VP for PA: Lindsey-Joy Zangler
Secretary: Lexi Delliponti
Treasurer: Angelica Mayor
Historian: Jenna Nevonen
Class of 2018
President: Ramsey Gomez
Vice President (VP): Courtney Jersic
Secretary: Grace Lange
Treasurer: Chloe Valdez
Senator for Design Academy (DA): Caroline Graham
Senator for Professional Academy (PA): Isabelle Del Rosario
Class of 2017
President: Kevin Peace
VP: Demitri Bannoura
Secretary: Victoria Truong
Treasurer: Alyssa Tiangco
Senator for DA: Michael Spencer
Senator for PA: Olivia Tan
Class of 2016
President: Aliyah Zollett
VP: Morgan Nogal
Secretary: Adrianna Willeford
Treasurer: Vahina Li
Senator for DA: Rein Villahermosa
Senator for PA: Mary Allyn Maguddatu
"I think the candidates this year worked really hard on their posters and it was a really great election. Congratulations to those that won," senior Rediet Ayele said.
Students who would like to become an elected member of the council can apply after Spring Break and they will be interviewed in early May. Requirements for the interview are a completed application and participation in the interview process.
"Since an additional section of Principles of Leadership has been opened for next year, I will be looking to fill approximately seven to 12 positions," Student Council Advisor Mrs. Miriya Julian said.
Incoming freshmen who are interested in becoming a part of Student Council will be elected after the annual retreat in August, where they will have a chance to get to know their peers, class adviser, Julian and the student body officers.
"I'm really proud of everybody who made it and I think they all worked hard this year, including myself. I'm just excited for the new year," junior Morgan Nogal said.