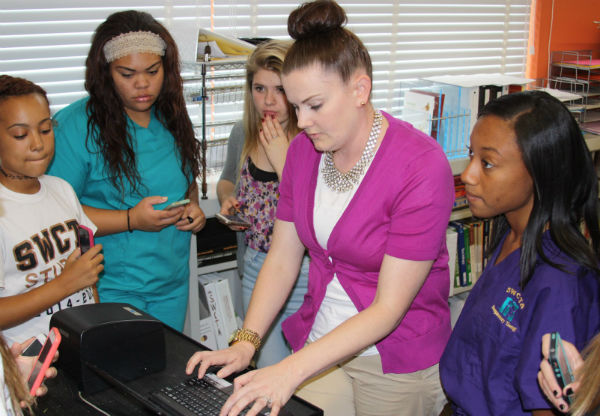 Hosted by Student Council, the "Secret Garden" themed homecoming spirit week will take place on Oct. 13-17.
"I'm looking forward to seeing how the student body dresses up for the spirit days because everyone will probably dress differently and I can't wait to see what everyone can bring to the table. I hope we get higher participation," Student Body President Rachel Martinez said.
| | | | | |
| --- | --- | --- | --- | --- |
| Mon. 10/13 | Tues. 10/14 | Wed. 10/15 | Thurs. 10/16 | Fri. 10/17 |
| Fashion Disaster Day | Floral Day | College T-shirt Day | Hippie Day | Extreme School Spirit Day |
"'Hippie day' ties into the 'Secret Garden' theme because a common phrase during that time was 'Flower Power'," Student Council Adviser Mrs. Miriya Julian said.
In addition, voting for homecoming royalty will start Tuesday. The three boys and girls with the highest number of nominations in each grade will be announced during the morning show as the homecoming court on Oct. 13. All nominees must attend a court meeting during either lunch to accept their nomination and collect their stash and other materials.
"Running for homecoming court is a really fun experience. I got nominated freshman year and it was awesome. I hope I get nominated again," junior Joseph Harvanek said.
Students interested in participating in the annual boys and girls DA vs. PA flag football game must retrieve the health waiver and insurance form from Julian in room D105, Ms. Veronica Whiton in the library or on Schoology. In order to participate in the game, students must have both forms returned to Julian by Oct. 8.
"I really want to play in the game because I like sports and I want to be able to represent my academy. I can't wait to see what happens at the game and who wins," senior Richard Liu said.
A special bell schedule will be followed on Oct. 17, as the flag football game will take place during school. The homecoming dance will occur the following day on Oct. 18 at the Panos Hall Courtyard from 7 p.m. to 10 p.m.
"I'm really excited for the dance because I like getting all dressed up and it's my first high school dance," freshman Kelsey Rodrigues said.
At last year's homecoming game, the DA girls won with a score of 12-0 and the PA boys were deemed victorious for the first time in three years with a score of 12-6.
"I think we can beat them [DA] this year because some of my friends are going to play in the game and they're very athletic and into it. Last year's game was really fun, even though the PA girls lost," sophomore Mindy Bi said.