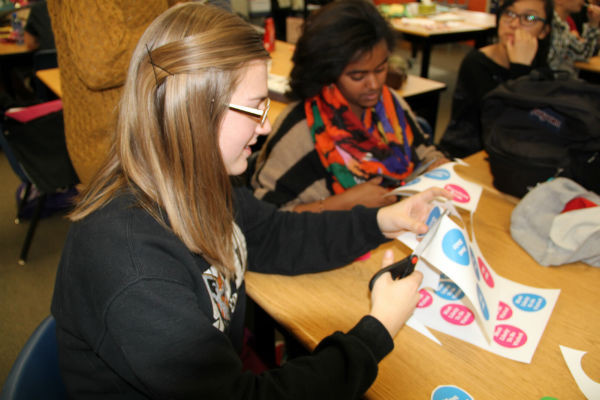 The Sadie Hawkin's Dance Spirit Week and Battle of the Sexes will take place from Feb. 24-28. The dance will be held in the Coyote Gym on March 1.
"I'm super excited to see the theme, 90's, in action. I love feeling nostalgic and everything from lunch games and the assembly to the actual dance. The theme will be portrayed all around. Can't wait to do the ultimate throwback!" Class of 2016 Treasurer Angelica Mayor said.
Student Council presents the Sadie's/Battle of the Sexes Spirit Week:
| | | | | |
| --- | --- | --- | --- | --- |
| Monday | Tuesday | Wednesday | Thursday | Friday |
| Powerpuff Girls vs. Rowdyruff Boys | Prep vs. Grunge | Scrunchies vs. Spikes | Leather vs. Denim | Pink vs. Blue |
"I love this year's spirit days for Sadie's because they all follow the 90's theme!" Student Body President Mia Driscoll said.
Participants for the Battle of the Sexes can pick up wristbands and t-shirts at both lunches in the cafeteria on Feb. 24. Below is the schedule for Battle of the Sexes:
| | | | |
| --- | --- | --- | --- |
| Tuesday | Wednesday | Thursday | Friday |
| Kickball tournament | Dodgeball tournament | Dodgeball final tournament | Assembly |
"I'm really excited to see how the boy to girl ratio plays into the result. There are nearly twice as many girls than boys, and I'm interested to see if the guys can really bring it," Student Body Historian Rachel Martinez said.
Also, teacher superlatives are a new addition to the Battle of the Sexes. Students may nominate their favorite teachers during both lunches beginning Feb. 24 for 10 cents per nomination. Categories for nominations are "most sarcastic," "best hair," "most likely to visit in the future," and "most inspirational." Winners will be announced at the assembly on Feb. 28.
"I think teacher royalty is a good new addition to the Battle of the Sexes. It's something new to be excited for," sophomore Brandon Villanueva said.