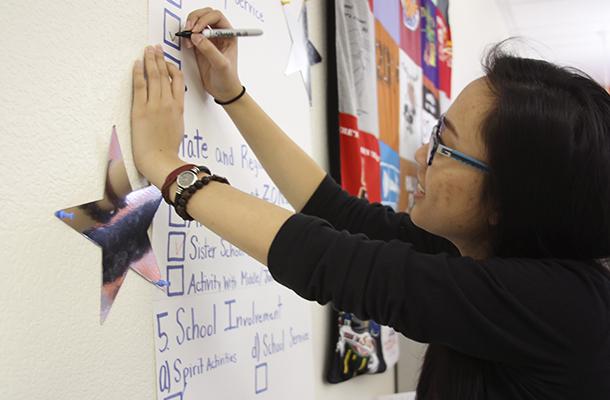 The Nevada Association of Student Councils (NASC) will award Student Council the Southern Star award at "Super Southern Zone" on Jan. 31.
"This is our fifth consecutive year of winning the award. The school has been open six years and the first year we were open we didn't get the award because we did not meet the criteria because we were a new school and not eligible," Student Council adviser Miriya Julian said.
After meeting all of the criteria, a scrapbook documenting the council's activities was submitted to the NASC State Board for review. To be eligible, the scrapbook had to begin on July 2014 and be submitted by Jan. 7.
"When creating it there is an extremely strict set of guidelines that you have to follow. Not exact means no award. It was terrifying waiting to see whether or not we had won the award. Once we finally saw the email confirming we got the award, I was absolutely elated," Student Body Historian Jenna Nevonen said.
To finish the scrapbook in time, 'Superscraps' were held the first Friday of each month from 4 p.m. to 7 p.m. and was open to all students to work on their own pages.
"At these events I use my time creating layouts, gathering thank you letters and/or receipts, or  I use my time working on our other awards as well," Nevonen said.
In addition, preparation for the statewide Silver Star award has begun. StuCo has won the Silver Star award for five consecutive years.
"Hopefully we will get it again for the sixth time in a row," Julian said.