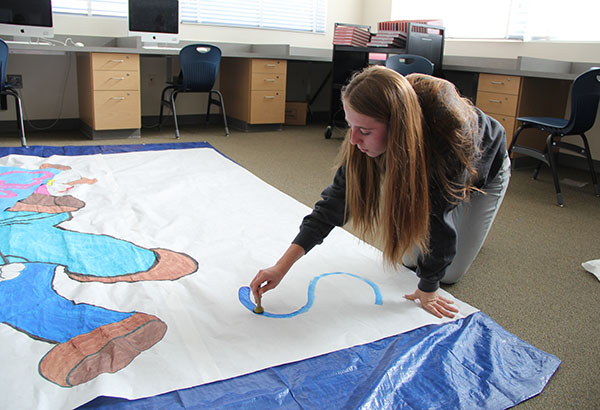 With the Sadie Hawkin's Dance and Game Night approaching on Feb. 28, information regarding the battle of the sexes game schedule, lunch games, spirit days and teacher and administration royalty has been finalized.
"I'm most proud of the council members figuring out a way to involve more students in the Sadie's night because we have amazing dances but not very many kids go to the dance. We're hoping we can get the guys to come for the games and hopefully they will go over to the dance after and have fun." Student Council adviser Miriya Julian said.
The "Game On!" themed spirit week will take place from Feb. 23 to Feb. 27.
| | | | | |
| --- | --- | --- | --- | --- |
| Mon., 2/23 | Tues., 2/24 | Wed., 2/25 | Thurs., 2/26 | Fri., 2/27 |
| Barbie vs. GI Joe | Tutus vs. Ties | Kind of Spades vs. Queen of Hearts | Athlete vs. Mathlete | Pink vs. Blue |
"I ordered some items on Amazon so I'm excited to debut them for the spirit days. I'm also excited for the actual event," Julian said.
The Battle of the Sexes will also be held during this time.
| | | | | |
| --- | --- | --- | --- | --- |
| Mon., 2/23 | Tues., 2/24 | Wed., 2/25 | Thurs., 2/26 | Fri., 2/27 |
| Participating students will pick up their items, register for dodgeball | Kickball game will take place after school on field | Dodgeball tournament will occur in gym | Final dodgeball tournament (best boys vs. best girls) | Participating students will compete in assembly games |
"I competed in Battle of the Sexes last year and it was so much fun. I was going to do it again this year but I think I'm just going to support my girls and watch the games," junior Linda Do said.
Participants wearing an orange wristband will have the chance to earn points for their sex during spirit week by competing in the lunch games. These students must be wearing an orange wristband in order to play.
"The games are focused on the theme of the dance. It's a way to get the students excited and ready for the actual event," Student Body Treasurer Angelica Mayor said.
In addition, Student Council began accepting nominations during both lunches for teacher and administration royalty on Feb. 17 for 10 cents each. The categories are: Most Likely to Win Jeopardy, Most Likely to Be A Millionaire, Most Likely to Win Hunger Games and Future Game Show Host. The last day to nominate your favorite teacher or administrative member is Feb. 20 before voting online for the winner from Feb. 23 to Feb. 27.
"The superlatives are a fun activity for the students to participate in because it follows with this year's Battle of the Sexes theme. The categories reflect our 'Game On!' theme," Student Body Treasurer Angelica Mayor said.
The winners from each category will be announced at the Battle of the Sexes assembly on Feb. 27 and will receive a sash and a crown. The sex of each winner will earn points for their team.
"I hope the students have a fun time being able to participate in electing their teachers, rather than electing their student body," Class of 2016 Professional Academy (PA) Senator Mary Allyn Maguddatu said.
Finally, the "Game On!" themed dance and game night will occur on Feb. 28 in the gym and cafeteria from 7 p.m. to 10 p.m. The $20 dance ticket will cover the costs of the dance, game night activities, refreshments and free photo ops. Battle of the Sexes participants can purchase tickets at a discounted price of $15.
"I'm definitely excited for the assembly. Since I'm on the assembly commission, I've witnessed all of the hard work put into the assembly for students," Class of 2017 representative Victoria Truong said.