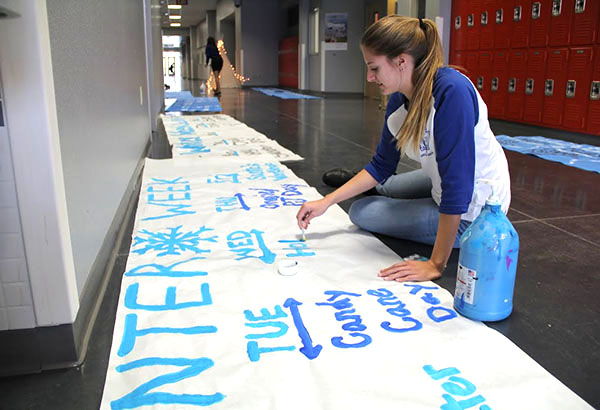 Student Council's "Winter Week" will take place from Oct. 15-19 and will include spirit dress up days and holiday themed lunch activities.
"'Winter Week' is so much fun because it's right before the holidays so it makes it much more exciting. It's a good way to get everyone excited and I can't wait to relax and catch up on sleep before finals," Student Council member Lisa Blais said. 
| Monday | Tuesday | Wednesday | Thursday | Friday |
| --- | --- | --- | --- | --- |
| Ugly Sweater Day | Candy Cane Day | Holiday Character Day | Onesie/Pajama Day | Santa's Workshop |
"I'm pretty excited for the the spirit days because I didn't have those spirit days in my middle school years. It's new to me so I'm excited to see how everyone will dress up," freshman Ramsey Gomez.
On Fri., Dec. 19, participating students must dress according to their grade level. Freshmen will dress up like wrapped gifts, sophomores will dress as reindeer, juniors will dress as elves and seniors will dress as Santa Claus or Mrs. Claus.
"When I was first a freshman, we still had 'Santa's Workshop Day' and I had to dress up as a gift. Now, four years later, I'm dressing up as Santa Claus as a senior. I'm so excited," senior Gentrit Bajrami said.
Due to the scheduled winter project based learning (PBL) days on Monday and Tuesday, the holiday lunch games will begin on Wed., Dec. 17 during both lunches. The games will be holiday themed and the winners will be rewarded with a candy treat.
"My goal for the games is to get the student body more involved and to show more school spirit. The games that we've planned so far are different and fun," Lunch Games Commissioner Lindsey-Joy Zangler said.
In addition, the food drive hosted by StuCo will conclude on Wed., Dec. 17. The items collected from the drive will be donated to the Salvation Army and the class who donates the most items will be rewarded with a pizza party.
"Being able to give back to the community in any small way is important and although a can of food may not seem like a lot, it can become someone's meal for the day," Class of 2016 adviser Mrs. Laura Penrod said.