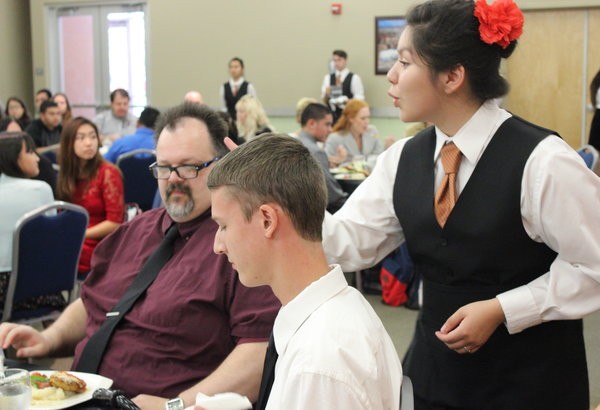 The first Community Partnership Program luncheon was hosted in the Coyote Ballroom on Sept. 16. Program teachers, student leaders, administration and community partners attended the luncheon.
"The luncheon was nice because we've never invited students to these luncheons before. It was great to have the community partners hear what the students are doing from the student's perspective," Community Partnership Coordinator Craig Statucki said.
Seniors who attended this event were able to explain their program, upcoming events and projects that they will be working on throughout the year.
"I thought the students speaking about the past three years was very important because it lets the sponsors know that they are not investing their money in nothing," senior Janay Hagans said.
Assistant Chief Student Achievement Officer Ms. Felicia Gonzales, also attended the luncheon and toured the school.
"It was wonderful to come back today and be invited to the luncheon. I couldn't be more excited about the way this year started and it makes me all the more proud to watch grow and be able to step out and know that the greatness of this school will continue," Gonzales said.
In addition, the culinary and hospitality students had the opportunity to cater a three course meal to the guests who attended the luncheon.
"Delicious lunch, beautiful presentation, I am extremely impressed with the students," Hospitality sponsor Cristina Lopez said.