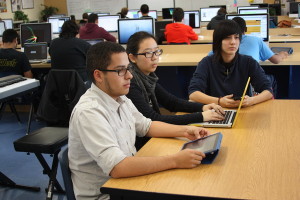 CCSD Chief of Technology Jhone Ebert met with the Web Design program leader Ms. Cindi Chang, seniors Flora Shi, Jonathan Cervantes and Dana Hackenberg, to discuss the creation of a student-run website that will teach the proper use of electronic devices used in schools on Jan. 8.
"It is a showcase website that is engaging as the students themselves are the ones updating with videos research and demonstrations. For those who cannot come here we can still share what we do here and show the positive side and potential of electronic devices," Chang said.
The idea for this website came due to the growth of electronic devices, such as iPads and iTouches, in schools. These devices will also be delivered to selected middle schools in a few weeks.
"The E3 Project gives students information about new technology that students can interact with on a 1-to-1 plan. Making this website will definitely spread the idea not only to our school but the whole Clark County," Manager of Studio C Flora Shi said.

Loading ...
With Clark County being the fifth largest school system in the nation with over 309,476 students, the website is meant to be viewed statewide, but also nationwide for other school districts to use. The website will launch at the end of the month.
"It will be a really big group project but a challenge I'm looking forward to," Manager of Studio C Jonathan Cervantes said.