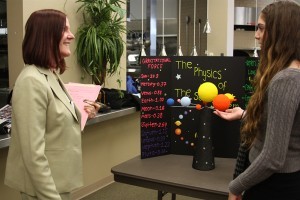 The "Physics of…" PBL presentations for students in Mrs. Elizabeth Williams and Ms. Martha Horner's physics classes began today.
"I think that the physics PBL was an important project, and it taught us juniors physic concepts we didn't know. I liked how we got to do a project on a topic we were interested in. I plan on doing a demonstration for my project so I can get an A," junior Michelle Tostes said.
"I thought the physics PBL was really interesting. I liked the fact that we had the freedom to pick whichever topic we could base our project on. I was able to research something I loved and I learned a lot of new information about physics. It's one
of my favorite PBLs so far," junior Kristal Raquel said.

Loading ...
Extra credit will be provided to students that create a live demonstration that can be used for classroom instruction. Demonstrations may include videos, handouts, or an activity.
"I'm very excited about seeing my students' research come to life. Over the past month my students have been researching subjects they love and relating Physics to those subjects. I've seen so many positive outcomes already throughout this process, " Williams said.