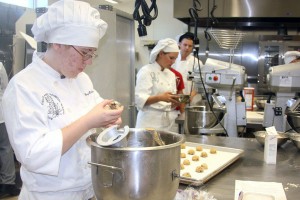 Hospitality teacher Chef Linda Burns' sophomore and junior students baked an array of sweets for Cashman Middle School's open house. The last minute baking assignment was just the push burns' students needed to start off the year.
"This really benefits my students, showing them how learning to be fast and efficient is a necessity in the cooking world," Burns said.
The students made several different types of cookies, including chocolate chip, sugar, Snickerdoodles, and oatmeal raisin. Burns noted how well this project taught her students how to prioritize their kitchen time, as well as improved the consistency of their cooking skills.

Loading ...
"This not only benefits my students, but the school as well, except for the poor kids that have to smell the fresh baked cookies every morning," Burns said.