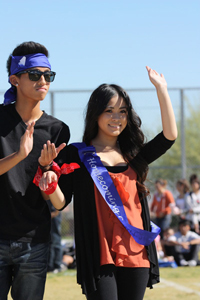 Homecoming court was not announced today during the assembly due to voter fraud.
"The ballots did not add up accordingly for the junior class, so for this reason, there will be a re-vote at the dance." junior Kennedy Rosek said.
During the last period of the day, an announcement was made that voter fraud had been the reason of a rescheduled Homecoming court vote.
"The Student Council Elections Commission detected irregularities in the ballots and were then instructed by administration to invalidate the election. The commission was then advised to conduct a revote at the dance to determine royalty. The elections commission worked very hard to find a solution and I applaud their integrity," Student Council adviser Mrs. Miriya Julian said.

Loading ...
After the votes are placed tomorrow, the official homecoming royalty will be announced. In total, two winners out of every grade will win.
"I am a lot more anxious now to find out if I win or not!" senior Sabine Bacha said.