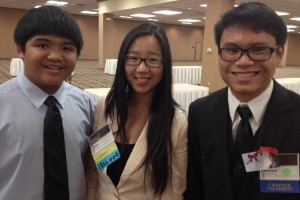 A total of nine members from SWCTA FBLA attended the Nevada FBLA State Business Leadership Conference in Reno, Nevada, at the Grand Sierra Hotel & Casino and left with multiple awards and two state officers.
At the conference, hundreds of Nevada FBLA members elected a new state officer team to lead the state association in the upcoming year. Bianca Cseke was elected the Southern Nevada Vice President and Flora Shi was elected to serve Nevada FBLA as the Vice President of Service.
"The two second pause after the announcement of 'the next Vice President of Service is' seemed like two whole minutes to me. However, the familiar name, my name, after that two min pause, made me realize everything I've worked for was worth it. It is just absolutely great to have enough power to help those people that needs help; because after, if you do good things, good things will happen to you," Shi said.
The state conference featured dozens of competitive events. Competitor Bianca Cseke received first place in Business Procedures. Gerard Cana, AJ Love, and Leah Love placed first in the Spelling Relay activity. Two students from SWCTA competed in Business Math and placed in the top 10. Gerard Cana received second place and Taylor Tang earned sixth place. The pair team of Leah Love and Jody Pham was awarded a bronze medal in Digital Design and Promotion.
"For a couple months before the conference, we made all of our meetings centered around competition. All we did was work on competitions. We even had some of the State Officers come in and give us advice since we've previously never went to SBLC. It definitely paid off, because we won a lot," Gerard Cana, FBLA President, said.
National FBLA finalists will travel to San Antonio, Texas, June 29 to July 2 to compete.