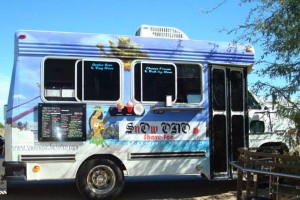 The second annual Coyote's U-night will be held on May 18, 2012 on campus from 5 p.m. – 7:30 p.m. For this event, SWCTA has invited five food truck vendors to accompany us with this special event.
"I think renting those food trucks is a good move because if they didn't, there's going to be an army of finger licking chicken crazed high schoolers," freshman Mahir Hussein said.
These trucks will be on campus for the duration of the event and will be supplying everyone with a nice meal and cold drinks.
Snow ONO: (Hawaiian shaved ice)
Sin City Wings: (French Fries, Buffalo Potstickers, Fried Pickles)
Ben's BBQ: (Southern style BBQ)
Chi-Town Hustler: (Italian)
Engine 1 Pizza: (Freshly made pizza)
"I think it will attract more people to go buy from them knowing the variety of amazing food they can have" freshman Alyssa Ocampo said.
For more information, contact Mr. Ball or Mr. Butler in the Partnership Office.