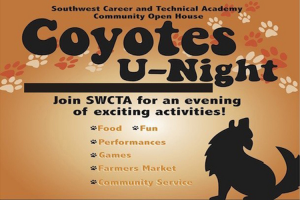 On May 18 from 4 p.m. to 7 p.m., Southwest Career and Technical Academy will host their 2nd Annual Coyote's U-Nite fundraiser event.
"I think this event is simply amazing. It is a fun way to fundraise for our school and get everyone involved," Kenny Le, junior, said.
This year's theme is "imagine," and it will be carnival-style with a variety of games built by entertainment engineering students. A variety of food trucks will also be available, including Sno-Ono. To pay for these activities and food items, visitors must purchase "Coyote Bucks," which are sold for one dollar each. A portion of the profit will go to SWCTA, and the remainder will be donated to The Shade Tree organization.
"I came last year and the number of food trucks available disappointed me, but rumor has it that there will be a larger variety this year. I will definitely stop by," Andrea Salazar, sophomore, said.
Clubs will also be working to raise money, such as HOSA, who plans on allowing the community to slam a car with a sledgehammer for a dollar. Additionally, SWCTA's fashion students will hold a fashion show to present their spring line. Other entertainment will be revealed the night of the event.
"The fashion show was a success last year. It is exciting to present our line to the SWCTA students and faculty, but is even more exciting to show off our work to the whole Las Vegas community," Maureen Manipon, junior, said.
There will also be many programs showcasing project-based learning created by SWCTA students, and the Southwest Howl will be distributing the 2011-2012 yearbook. Coyote U-Nite is open to all of the Las Vegas community and is an all-ages event, so invite your friends and family!