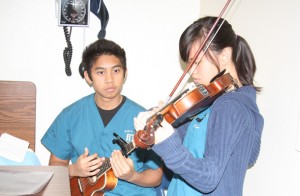 SWCTA Respiratory Therapy juniors have begun their Spring PBL. The goal of the project is to provide Tobacco Education and information about related respiratory diseases to fifth graders about how to live a healthier lifestyle. On March 28, 2012, the students will walk to Mark Fines Elementary School's multipurpose room at 9:30 a.m. and present from 10 a.m. to 11 a.m.
"I'm hoping we can get kids to be more aware about how dangerous smoking is, and to avoid smoking or chewing tobacco once they reach our age," junior Mai-Li Miller said.
The students will present their information on tobacco and five related diseases through a visual presentation for the first half hour. There will also be a group of respiratory students performing the song, "Skyway Avenue" by We the Kings, but they have changed the lyrics to relate to smoking and five types of COPD. The five diseases that will be included in the presentation are Alpha-1, emphysema, chronic bronchitis, bronchiectasis, and asthma.
"I think the fifth graders will really enjoy our presentations and be involved in the activities as well," junior Jessica Wolf said.
Following the interactive presentation and performance will be tobacco prevention related activities. There are six hands on demonstrations that they will be able to participate in such as hot potato and the emphysema straw. The fifth graders will also receive freebies such as stickers and temporary tattoos. Once the presentation is over, the students will return back to school at 11:45 a.m. and write a self critique of the event.