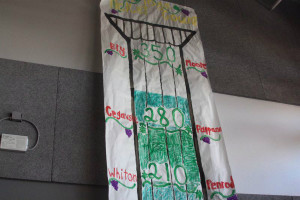 Teachers on campus were dressed in togas on May 10 as part of a prom ticket sale promotion. Prom, themed Ancient Rome, was held at Canyon Gate Country Club on May 11.
"I love participating in dress up days, but I think the toga idea was a great tactic to sell tickets. I'm excited to do fun stuff to be involved in dress up days with the students," Freshman Studies teacher Mrs. Laura Penrod said.
Student council members asked teachers to wear togas for every 70 tickets that were sold. Tickets sales for the annual junior/senior prom started on Apr. 24 for $50.
"It's going to be so much fun to see all these teachers in their togas. This is a smart way to sell our tickets," freshman Citlali Tinoco said.
Eight teachers wore togas. The teachers who participated in this event were Ms. Brant, Mrs. Locklear, Ms. Woods, Ms. Bailey, Mrs. Penrod, Mrs. Whiton, Mr. Pappano, and Mr. Moore.
"I didn't even know I was put in this promotion! Even though I just found out about it, I think it's a great way to sell the tickets," Health teacher Mr. Mark Bly said.
The total number of tickets sold during this promotion exceeded the 410 ticket goal.
"The toga idea was definitely a success! Student Council was able to sell more than 350 tickets for prom. It was really cool and fun to see our teachers styling up with their bed sheets to make togas," freshman Xueying Zheng said.

Loading ...