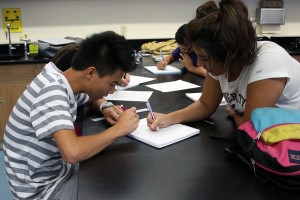 With the first day of school being around the corner, most teachers decide to start the year off with icebreaker activities. However, physics teacher Mrs. Elizabeth Williams, won't waste any time with "name games." Williams plans on surprising her students with an early introduction to the winter PBL.
"Our PBL time frame is in October and the knowledge base of my students will be limited to velocity, acceleration, and a bit of force by that time. Not much for them to go on," explains Williams.
The topic for her physics classes is "The physics of…" in which the students will choose something they love to do the project on. For example, if a person loves sliding down big slides, they can choose to learn about friction and the structural building. Another example would be a person who loves playing soccer will learn about the different forces and momentum required to kick a ball or make a goal.
"The premise of this PBL is for each student to learn the Physics side of something they absolutely love. They are going to have to learn on their own the Physics principles involved with their subject," Williams said.
Williams will assign this PBL as an individual project. While each student is working on his/her own passion, they will also need to find time, weekly, to meet with three other students to provide feedback and ideas to help improve each other's project and presentation.
Students will officially start working on this PBL on October 24. The PBL ends on November 20 and presentations will take place on November 21 and November 26.
"My goal for this project is for my students to discover how Physics affects each of their lives personally," Williams said.

Loading ...
Williams posted information about the science PBL early, even though students really can't work on it until October, so everyone can think about what they'd like to work on. With the information being available early, it prevents students from rushing to finish the project on time and procrastinating.
"I'd like the students to hit the ground running in October with their ideas gathered and ready to go," Williams said.