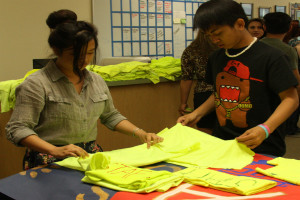 Junior hospitality students are planning the third annual Coyote U-Nite which will be held on May 17 from 5 p.m. to 7:30 p.m. at school.
"I think Coyotes U-Nite is going to be so much fun! I hope theres a lot of people who show up and participate," junior Vanessa Buensalida said.
Various activities from GAMES2U Mobile Entertainment will be featured on campus, including a video game station and hamster ball station. Also, there will be six food venders for students to purchase beverages and food: Monte's Gourmet (Chef Russ), Dragon Grille, Strada Press, Melteez, Snow Monkey, and Hot Diggity Dog.
"There is going to be so many games at Coyotes U-Nite! I encourage everyone to spread the word and come have some fun," junior Brianna Jeter said.
Each program area will have a table showcasing the various projects they have completed throughout the school year. Resource tables will also be set up for incoming freshmen and the community with booklets and pamphlets with information regarding the multiple clubs and majors available at the school.
Students are encouraged to donate spare change at Coyotes U-Nite to the Make-a-Wish Foundation which grants wishes of children diagnosed with a life-threatening medical condition.
"I am so excited to be representing Respiratory Therapy at Coyotes U-Nite! I get to play games and show people the different things I've done in my program area," junior Tiffani Lewis said.
Hospitality students will be wearing neon green "STAFF" shirts and will be selling Coyote U-Nite bracelets. During this event, yearbooks will be distributed by journalism members, as well.
"I will be at Coyotes U-Nite in a bright green shirt if anyone needs help. The goal for this whole event is to have a lot of fun and celebrate our last end of the school year event together," junior Candace Kozell said.

Loading ...