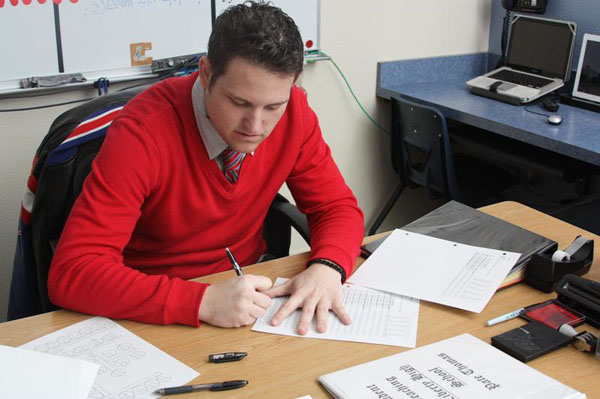 Recent UNLV college graduate Mr. Pate Thomas began his first licensed teaching job as the new American History teacher on Feb. 6.
"I'm looking forward to getting to know the staff and students for the rest of the school year," Thomas said.
Thomas completed student teaching at Liberty High School and has previously been a long-term guest teacher at Cimarron Memorial High School and Canyon Springs High School after he graduated from UNLV in December.
"I think we are going to learn a lot from Mr. Thomas. He just graduated from college and seems really fun," junior Michelle Tostes said.
While in college, Thomas worked for Apple Inc. as an AppleCare Adviser.
"While working for them I realized the impact that technology has on education, and enjoy that I have the opportunity to incorporate that into my classroom," Thomas said.
Thomas was born and raised in Las Vegas and attended Cimarron-Memorial High School. He graduated in the top 5% of his class with the advanced honors diploma.
"I'm excited to have a new teacher, it means new experiences," junior Eric Feldman said.