The grading categories have been changed beginning first quarter. Assignments will now be assessed by three different categories: content mastery, skill development and employability skills.
"By the end of last year the staff development came upon discussion about grading practices," Assistant Principal Trish Taylor said. "There was also a book study that lasted for six weeks on the '15 Fixes for Grading' by Ken O'Connor. The district is pushing the 15 fixes from that book and has directed schools to inform them what fixes we are addressing and incorporating towards our school."
Teachers had discussions during their department meetings about the six tenets and possible grade inflation last year; it was then discussed as a faculty at the final staff development meeting.
"I think that the change of categories will be good in the long run for the students," Web Design teacher Ms. Cindi Chang said. "They will actually be able to see what their true grade is for the work that they are doing. Also, students can see if they recall knowledge from class based on their testing scores."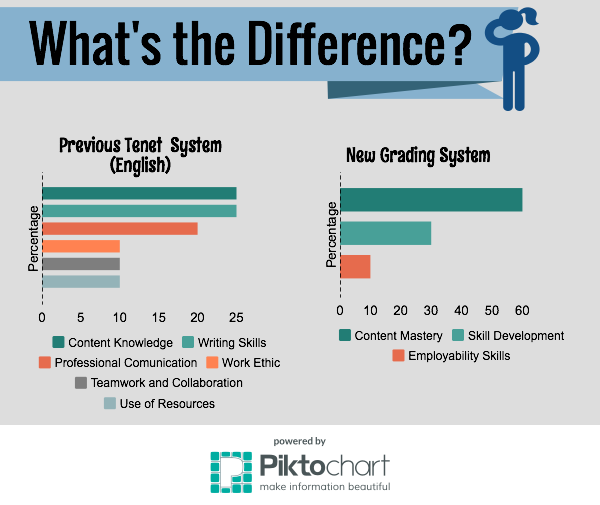 Additionally, teachers are now working to incorporate the new categories in their classroom. All previous tenets were broken down in order to create a sustainable grading system.
"I think that the change in tenets did come as a surprise at first," junior Maricelle Barrameda said. "But I feel as if it would encourage students to work harder for the grades that they deserve."
Now in the third week of school, students are experiencing how the new assessment system works; they can also see how each of the new categories impacts their overall grade.
"I'm not sure if the change of tenets were affecting me in a positive or negative way yet," junior Kyla Bayani-Dominguez said. "So far in my classes my grades didn't dramatically change. However, I feel that as the quarter progresses, content knowledge will be affecting the majority of my grades due to testing scores."
The district's concern of inconsistent grading has been the driving issue towards past staff meetings. Also, the shift from the old tenets to new categories has been done to make the grading process easier for teachers.
"I feel that the tenets  have a positive outlook within the classroom," Hospitality teacher Ms. Catherine Vigatto said. "So far there hasn't been any grading issues so I can't wait to see how the year will go."
Based on feedback from students and faculty, additional revisions may occur throughout the year.
"What I think will be interesting is to see how the year unfolds and how we evaluate the student progress and achievement with the new grading system," Taylor said. "I'm sure we will be reviewing the change and looking to see, if any, how students' grades change in regard to the new grading categories."