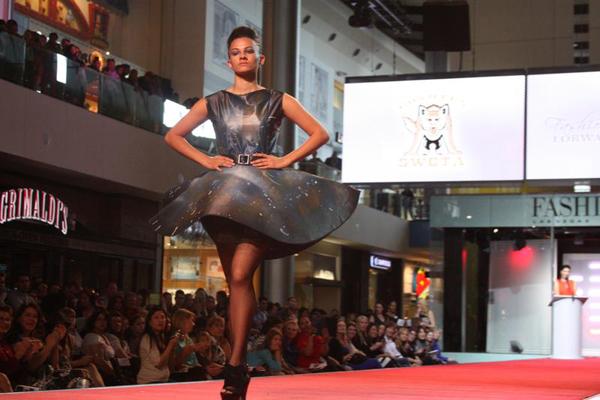 The Junior League of Las Vegas (JLLV) hosted their 5th annual Fashion Forward: Prom Party Fashion Challenge at The Fashion Show Mall on March 9. A total of 64 students from six Clark County Schools participated in the showcasing of the prom dresses. Juniors Mercedes Geary won second place in the overall competition, while Felicia Richardson and Lilia Castillo placed.
"The fashion was great and I thought that our school's dresses stood out amongst the rest. It was also interesting to see the difference between our dresses and the other schools," junior Judith Shively said.
JLLV is an organization of women committed to developing the potential of women and improving the community through volunteers. Because of them, Fashion Design juniors were given the opportunity to walk down the runway and show off their dresses to the public audience as they have for the past four years.
"This was a great opportunity for us and with the help of Star Costumes we were able to make our dresses. They gave students free, expensive fabrics despite how many of us there were and I thought that was amazing," junior Alice Louie said.
Students were prompted to construct a formal dress that can be worn to prom. Each student was allowed to spend only the donated $50 on materials to complete the challenge to a fabric store provided by JLLV.
"I loved the thrill of walking down the runway; it made me feel invincible, untouchable. It was worth all the work and now I have more confidence in myself. I'm so thankful I had the chance to participate in it," junior Alyssa Ursch said.
Fashion experts that judged the runway show included Abby Tegnelia, editor of Vegas Magazine, Jimi Urquiaga, fashion designer and winner of "Fashion's Night Out," past Fashion Forward winner, Jenna Daughton, personal stylist and columnist for SEVEN Magazine, and Todd Avery Lenahan, designer.
"Although we didn't win, I personally think all our dresses came out well and that we deserved more recognition," Castillo said.