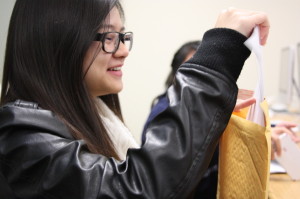 The Professional Academy freshmen taking Freshman Studies composed their own, individual time capsule to re-open at the end of their senior year.
"I think the time capsule was a good idea, because when you graduate as a senior, you get to remember the good memories from Freshman Studies," Brandon Villanueva said.
The students were required to provide their own manila envelopes that will store their most valuable and important possessions. The assignment was to put as many memories from their first semester into the time capsule and write a letter to themselves in the future. Mostly, students stored special notes written to them by their friends. They also included items they never wanted to forget, such as pictures.
"I want students to reflect on what they thought they would accomplish, goals they had and whether they've achieved them, and to think about where they want to be when they open this letter," Mrs. Laura Penrod said.

Loading ...
The time capsules have been sealed and will be delivered by hand or by mail to the student before graduation.
"Creating the time capsule was a great experience, because I want to be able to look back on what I did and who I was when I was a freshman," said freshman Ezra Ocampo.