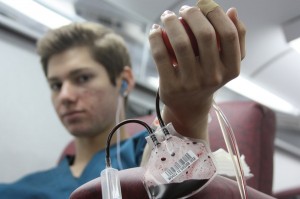 On Oct. 15, the Blood Drive Mobile visited SWCTA. Students were allowed to donate their blood from 7 a.m. to 12 p.m.
"I just turned 17, so I was excited to be able to donate blood this year. I did it because I expect other people to do the same for me," junior Kinsey Wagner said.
The requirements to donate blood consisted of students weighing at least 100 pounds, being 17 years of age, and in good health.
"The blood drive gave students the opportunity to donate their blood and try out a new experience. I'm glad we had more new-comers this year and definitely consider it a success," senior Bserat Ghebremicael said.

Loading ...
The Blood Drive van was located outside of Mrs. Vicki Smith's room in the H building. A check in table was available and bottles of water.
"The blood drive was successful! I do wish more students would have participated though," Smith said.