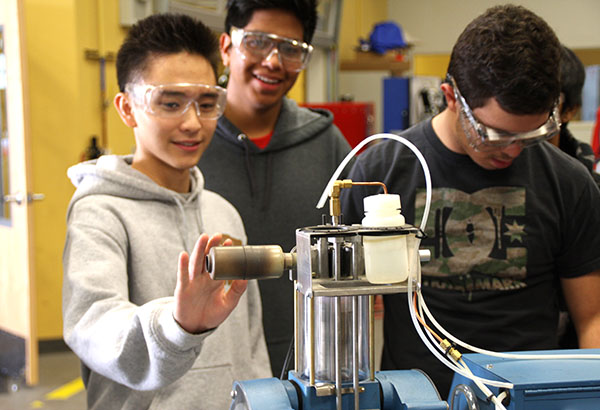 For the annual fall/winter project based learning (PBL) activity, the upperclassmen provided visiting eighth graders with hands-on activities that tied in with each program area, while the freshmen used math equations to create scaled sticky note images from Dec. 15-16.
"I think it went really well; When you plan you feel nervous. I feel the students did well handling the middle schoolers. I feel that it was successful seeing the middle schoolers witness career tech education and seeing the students pass down their knowledge to the middle schoolers," Community Partnership Coordinator Craig Statucki said.
The middle school students who visited on Dec. 15 were from Lois Jerry Tarkanian Middle School and those who visited the campus on Dec. 16 attended Wilbur and Theresa Faiss Middle School.
"It was nice having the middle schoolers come and see what we do because we don't get many girls in engineering, so hopefully this will lure them to join," senior Aundie Soriano said.
Several programs had an activity or presentation prepared for the middle school students that mixed both hands-on experience and content knowledge to teach them about their area of specialty.
"My group was really productive and it was fun to play the games that we made with the eighth graders to see what they knew," sophomore Jonalyn Toribio said.
The junior Hospitality students led the eighth graders through a tour of the school and gave a brief overview of each program. The seniors worked on their senior capstones, and sophomores prepared an activity that corresponded to their program area as part of the tour.
"I love the fact that hospitality students utilized what they learned in class practically and so easily," Assistant Principal Michael Butler said.
However, the Dental and Web Design programs participated in separate activities. On Dec. 15, juniors in the Dental program had the opportunity to leave campus and visit Mark Fine Elementary School to educate their students about proper dental hygiene.
"Teaching the first graders proper dental care was truly an amazing experience and I enjoyed it. They were so eager to learn and they had so many questions," junior Kimberly Yiv said.
During the first day, the Web Design students were taught how to dance by Culture Shock students, and in return, the dancers were taught various technology skills on Dec. 16.
"Learning how to dance was much harder than I thought because it's out of my comfort zone, but tomorrow I get to teach the students how to code which is something I'm pretty confident in and I'm excited for them to learn," junior Brandon Ly said.
During both PBL days, freshmen used sticky notes and math equations to create hallway visuals that related to their program area. They then created a video that included a time-lapse of the construction process and an explanation of the question and its solution.
"We reviewed fractions and then we had to create a word problem that related to our program area and had addition, subtraction, multiplication, and division of fractions. We also had to create a visual of our word problem out of sticky notes," freshman Tehreem Ahmed said.