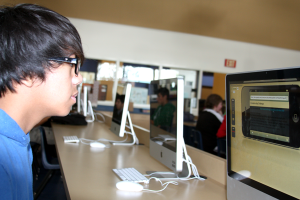 Juniors and seniors in the video game design course have been presented with the opportunity to work with Verizon, a Fortune 500 company, to develop a concept for a mobile app. The app will focus on using science, technology, engineering, and math, or STEM, to address a school or community issue.
"I hope that the students get a better understanding of STEM and its importance for students and the local community. I am eager to see the students put their skills to the test to develop a concept for an app," Mr. Craig Statucki, video game design teacher, said.
Each participant has the opportunity to win a Samsung Galaxy tablet, as well as the chance to have their app developed and travel to Orlando. The project is due for juniors and seniors on January 10th, 2013.
"The school could also win $10,000 to promoting STEM education." Statucki said.

Loading ...
While Statucki's seniors are required to work on the project, the juniors have the choice to continue working on their 20% project or take a temporary hiatus to work on the app challenge.
"The 20% project is fun and all, but I feel that working with a major company and having the chance to win a nice prize for myself and the school is a bit more exciting than sitting in class working on my project." Said Errab Castro, a game design junior.