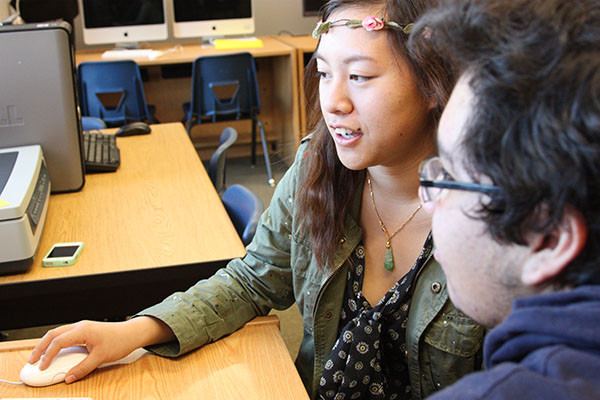 Ms. Maureen Clark's Graphic Design classes were assigned a project involving the vector-based Adobe Illustrator. The project involved creating an accurate self portrait, including a background to show what has been learned.
"It is a chance for the students to demonstrate their knowledge of Illustrator in a creative way," Clark said.
Each student had to take a self-portrait during class and use it as a base for their actual design. The students were required to trace over the image with a pen tool and create shapes that form the portrait.
"We use the pen tool to make different shapes and then add in colors and gradients to make it look more realistic," freshman Solange Nhan said.
Students are also using their knowledge of values to create shadows and highlights with the pen tool to make the portrait look more three-dimensional.
"The hardest part is finding where the values were on our face and somehow creating an accurate shape using the pen tool that would recreate the shadow or highlight. It's hard to position it in the right spot and make it the right shade," freshman Cynthia Sze Nga said.
Weekly progress checks were held to identify errors and provide ample time to improve before the final product had to be turned in.
"After some of the progress checks I realized I needed more shading, and it really helped. The project overall has given a better understanding of how to make a two dimensional drawing look more real," freshman Kevin Camelo said.