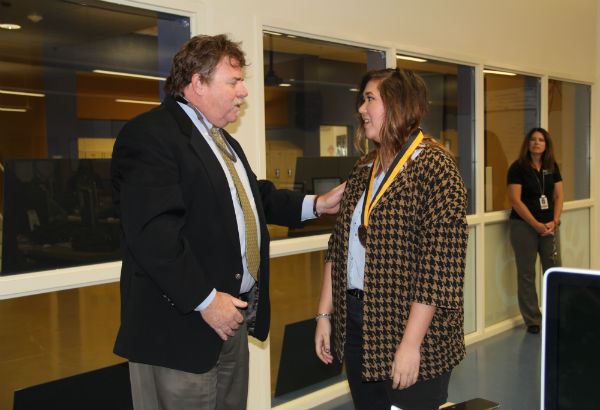 The Web Design and Development II and Animation II class received the Prudential Spirit of the Community and President's Volunteer Service award at the Prudential Presentation on April 8 at 9 a.m. in Ms. Cindi Chang's classroom (C126).
"I'm really proud of the junior web and animation classes for the tremendous effort they put into creating Ben's Book. They worked countless hours on the interviews, website and everything. What they did shows that they deserve the recognition that they're getting," Chang said.
Both classes were recognized for their animated film on Ben's Book, a project that began in Dec. 2013 and was completed by the end of the 2013-14 school year.
"The way they put that book to life was phenomenal. We are so honored and proud," Principal Donna Levy said.
The award was presented to both classes by Prudential Financial, but was accepted by junior Gillian Eastman, who filled out the application for the award.
"It's important that the students get recognized for the work that they've done because they've gone out of their way to do a project to help make a person's day and future brighter. It also shows how autistic people are being perceived differently," Financial Adviser Geroge W. Hasse said.
Benjamin Allen Nelson graduated from Foothill High School and is the author of "Little Red Flying Hood," an e-book that can be purchased from Amazon for $2.99.
In addition, Prudential Financial is the largest financial insurance company in North America and have been around for 150 years.
"I'm glad to make this presentation and we're glad to be here," Hasse said.