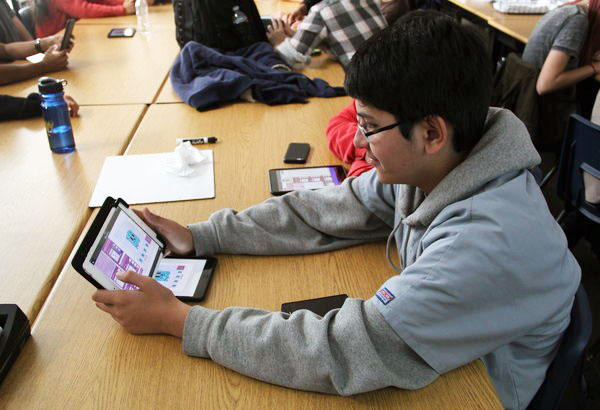 As a part of Computer Science Education Week, now through Dec.14, students in Web Design taught other programs to code during the Hour of Code.
"I wanted the school to learn that coding can be fun and it's not as hard as people think it is," Web Design teacher Ms. Cindi Chang said.
Web Design students were assigned a classroom to guide other students through the various coding related activities and were graded for their professional presentation.
"It was definitely rewarding to have the opportunity to share something I work with on a daily basis to students who thought it would never apply to them," junior Brandon Ly said.
Prior to coding, students participated in "Fuzz Family Friendzy," an activity where students were put into pairs to role-play as programmers and robots. Students were able to apply coding to simple tasks such as picking up a pencil.
"The Fuzz Family Friendzy challenge was a great icebreaker to introduce everyone to the basics of coding. It showed everyone how specific you had to be to complete a task," freshman Alyssa Colligas said.
After the activity, students were given different coding activities based upon their program area.
"The Hour of Code was a fun experience because the Angry Birds activity that we did gave me a lot of insight on how precise you need to be when coding," sophomore Emjhay Morales said.
The following are some the activities each program area partook in:
"Some program areas may not interact with technology on an everyday basis. The point of the different activities was to show how technology effects everyone and has a relevant use for everyone," senior Sabriya Said said.