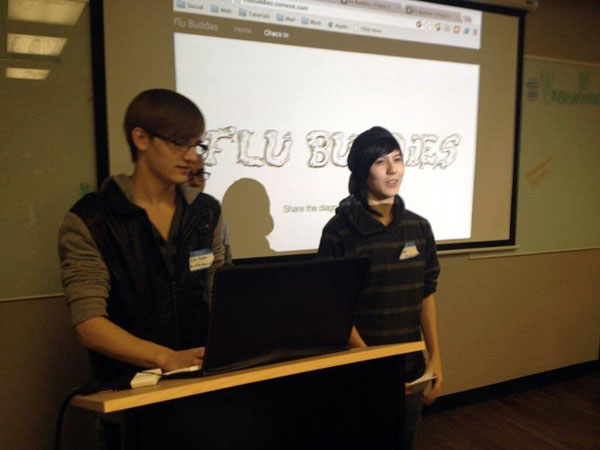 At the Work and Progress Center in downtown Las Vegas, seniors Dana Hackenberger, Mike Huebner, and Jonathan Cervantes won the Best Overall App award and a Romo Robot at a Hackathon on Feb. 23.
"I went to the network to meet new people that know about coding, and to find new ways to help the community. I learned that many people don't go to the doctor, so this app will send their results that they get to The Health District, with that, the district can do something about it," senior Cervantes said.
The challenge was to create an app that would function in eight hours. Since they competed in Code and Challenge, they had to create an app that would provide people in the community with solutions toward their health problems and also be able to report it to the Southern Nevada Health District.
"I thought is was awesome and I'm happy that I went. It was fun and I learned a lot about coding," Huebner said.
Hackenberger, Huebner, and Cervantes also had the opportunity to discuss community problems with the Southern Nevada Health District's representatives. The Health District informed them that they had a problem with the flu outbreak and could use an app that would serve as a self report app that would tell users what illness they have and how they can treat it.
"I learned a lot from the mentors that helped us, since I had the chance to talk to them a lot more. They showed me how to present, pitch ideas, and sell products; it was nerdy but incredible networking experience, " Hackenberger said.
The app is still currently being worked on, but it will hopefully be completed by this summer.
"I am very proud of what they were able to accomplish with the app, and I think that it will be a benefit to the community later on", Web Design teacher Ms. Cindi Chang said.