[vc_row][vc_column width="2/3″][vc_column_text]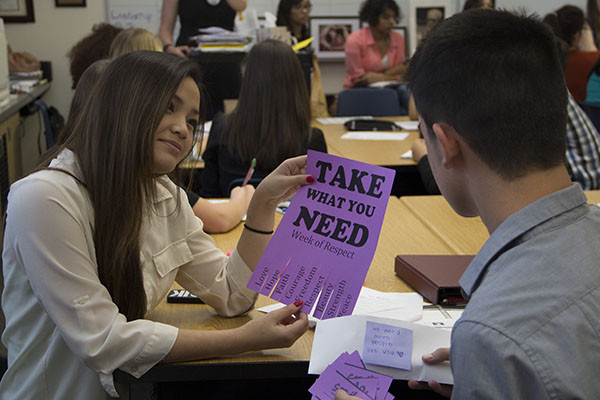 Student Council Committee Chair Senior Andrea Salazar, is currently planning and preparing for the annual "Week of Respect" that begins on Sept. 30 and ends on Oct. 4.
"The purpose of the Week of Respect is to show and raise awareness on bullying, suicide, and sexual orientation," said Salazar.
This year, there will be new activities added to this week such as the "Take What You Need" flier for any student who is in need of an uplifting word can physically take any of the words that they need. These sheets will be posted on each of the building's bulletin boards.
"The purpose is for students to take the word that they need most to make them feel better," said Salazar.
There will also be a "Place Your Hand Here Next to a Stranger's Hand" picture on each of the six building's bulletin boards. Students will place their hands on the poster along with a stranger's hand, and then they will each remove their hands when they are no longer strangers.
"I got this inspiration from tumblr and it will be a good way for strangers to interact and possibly create new friendships," said Salazar.
In addition, each Student Council member will be given ten Smarties and "Smile Cards" to hand out during the week. The "Smile Cards" are for a game of Smile Tag, starting with Student Council members, where each member will encourage students to pass it on until Thursday, and the student left with the card will turn it in to receive free purple candy.
"I came up with these activities so that more students can participate physically during the 'Week of Respect'," said Salazar.
The annual color for the Week of Respect will be purple. Participants wearing purple on Fri. Oct. 4 will be awarded a free grape soda on the stage during lunch, first come first serve. Also this week, each of the six hundred lockers will have a sticky note that has a positive comment on it. Finally, Student Council members will use purple window paint to write affirmations around the school.
"We want as much people to participate to raise the most amount of awareness around school. If students have more activities to do, I believe that it will get more students involved and aware," said Salazar.
Additionally, senior Hospitality students Sheridyn Fitch, Alexandra Amaya, and Tamar Mouradin are also involved in the Week of Respect.
"Our goal is to have a presentation in all of Mrs. Penrod's freshman classes about suicide awareness. We are going to present 'To Write Love On Her Arms', a suicide prevention campaign," said Mouradin.[/vc_column_text][/vc_column][vc_column width="1/3″][vc_column_text]

Loading ...
[/vc_column_text][/vc_column][/vc_row]