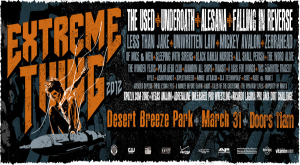 Congratulations to the seven winners of Battle Of The Fans! The local bands that will be performing at the 2012 Extreme Thing on the XPOZ stage on March 31st are Greater Depths, These Lying Eyes, A Minute Before Dawn, Habit, Tales of the Grotesque, The Runaway Lives, and Impurity of Mriya!
"The show was so much fun. It was pretty cool seeing local bands play on a stage and listening to the talent they have," sophomore Brian Diaz said.
Fans came out to the House of Blues to support their favorite local band in hopes that the band they love makes it to Extreme Thing. Mosh pits took place, head banging erupted throughout the night, and even a Wall of Death occurred during a band's set. A Wall of Death is when the crowd splits in half and run into each other when prompted. Some band members cried after what they thought was their disappointing performance and some bands cheered proudly.
"All of the bands did great, but I wish my friend's band won and made it to Extreme Thing," senior Chance Milic said.
24 local bands had the chance to play a qualifying set at the House of Blues at Mandalay Bay on Feb. 12th and Feb. 19th. At the show, fans traded in their tickets for a ballot to place into their favorite local band's box. The winners of Battle of the Fans were announced on the morning of Feb. 20th.
"This was a great night and I am definately going to Extreme Thing and watching the local bands play on the XPOZ stage!" junior Mike Huebner said.
Fans, come out and support the seven local bands that will be playing the XPOZ stage at Extreme Thing.Tickets are on sale for $17 in advance and $20 at the door. Extreme Thing will be held at the Desert Breeze Park on March 31st from 11 am to 10 pm.