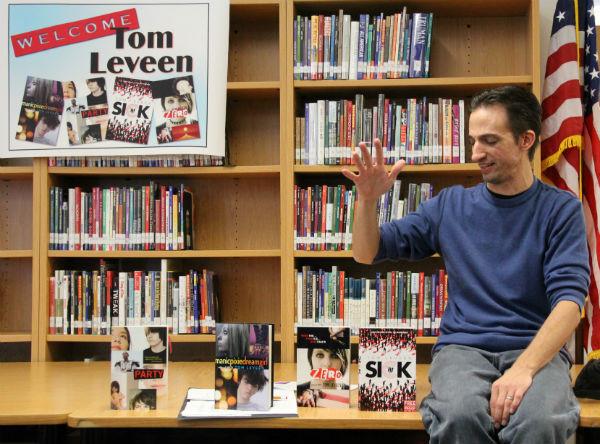 While in town for the 12th annual Vegas Valley Book Festival, young adult author Tom Leveen visited campus on Nov. 1 to promote and discuss his past and newest works.
"When you meet a celebrity, it's different than when you meet a writer. If I were a student and I met Stephen King, I would be all over the place!" Leveen said.
During the visit, Leveen shared with students a plethora of writing tips and suggestions, such as how to channel past experiences into fiction writing, how to deal with writer's block, and his experience while in the publishing process.
"Most of my writing comes from experiences that I have experienced or my friends have experienced, and I think it's great to be able to take a past experience and tell a story," Leveen said.
While he spoke on the synopsis of each of his books, Leveen also supplied students with encouragement to write their own fiction stories.
"He is such an amazing author, I'm glad I got to meet him!" sophomore Rachel Martinez said.
Leveen explained to students the amount of dedication and determination a writer must have to have their work publicized, and the power of writing to tell a story.
"He could have talked for hours about reading and writing, but if it weren't for the bell, students would have missed 8th period," school librarian Ms. Veronica Whiton said.
Also, students who attended were able to purchase his books and ask questions.
"Tom Leveen enlightened my passion for writing, and now I'm really interested to read all of his books," Martinez said.
His published books include Manicpixiedreamgirl, Zero, Party, and Sick. In addition, his newest book, Random, will be published in the summer of 2014.
"Hopefully people will talk about the author visit so that next year, if I decide to do another author visit, more people will show up. The whole purpose of it was to get students to read more," Whiton said.
Leveen, who was born in Phoenix, Arizona, has spoken to many students in schools or organizations around the country, such as the Arizona Reading Association.
"It was such a great experience, I learned more things about one of my favorite authors. I really want to meet more authors," sophomore Baylee Perera said.
While attending the Vegas Valley Book Festival, Leveen took part in a panel called the "Clash of Paranormals," a panel composed of writers who have written paranormal fiction. Also, Leveen hosted a book signing to meet and greet his readers.
"He is my absolute inspiration and I am so glad I got to meet him. I now know the concepts and messages of his books," sophomore Rebekah Cichoski said.