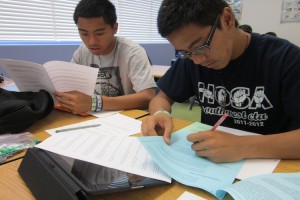 For the past three years, I was fairly prompt in completing my assignments and submitting them on time.  It did not matter to me if I had to sacrifice hours of sleep, because my irrational fear of failing a class pushed me to finish my homework quickly and effectively.  However, when senior year hit, I experienced a sudden and alarming decrease in motivation and work ethic levels.  It felt like I was wearing a mask immune to grades and work.
Many of my peers can relate to the same detachment to school.  They have become mindless drones refusing to start (or finish) any type of work.  They turn their heads away when they see an assignment written on the board, or they try to reason with their teachers to cancel the homework.  Every day seems to be the same.
Many seniors and teachers blame the disease "senioritis" as the cause of this apathy, but after going through a nonstop, tedious routine every year, I now know why my peers and I hit a wall.  This wall, this rampant disinterest among every grade level, is caused by the daily monotony and overload we encounter, and it is a challenge to overcome individually.
The main problem in school is that students spend so much time working on projects, assignments, and schoolwork they have no personal interest in, and therefore they become quickly disinterested and lose the incentive to work. There is nothing exciting about sitting in class while completing paperwork or listening to a lecture, especially if the student is not interested in that particular subject.  Projects can be restricting if there are rigid guidelines to follow.
These day-to-day events condition us into a routine that eventually cements us in.  There is, however, a solution to fight off this apathy: take a break from the usual.  Instead of continuing with the constant repetition, teachers should find something else that is enjoyable, as well as educational that will fit their curriculum.  Teachers need to understand the importance of doing something outside of the norm so students will not "burn out," so to speak.  Interactive and light, collaborative assignments in between continuous lectures, such as an egg drop, poetry-writing, or creating models explaining a parabola, can lead to increased progress in performance and understanding.

Loading ...
In addition, the Flip Model system, utilized by numerous teachers, changes the classroom setting into a collective learning experience by covering the necessary basics and allowing the students to delve further into more difficult concepts through activities.  The "break" is intended to help the students achieve more when they settle back into the habit of note-taking and solving problems.
Daily monotony causes apathy and boredom in students.  If teachers introduce a fresh perspective into learning, however, the dullness will be broken, and students will experience a smoother transition from lecture to lecture.