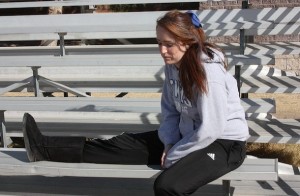 The crowd is roaring as the scoreboard recaps the last few minutes left in the game. As I sprint, closing the gap between myself and the goal, I can hear my teammates urging me to score the winning goal. Suddenly, the world starts spinning as I lose my footing on an uneven piece of the field. The red hot flashes of pain searing through my ankle makes me fear the worst, and as I look down at my rapidly swelling ankle, I know my worst fear has become reality: my season is over.
Over the past few years, hard-hitting sports seem to hold more and more dangers for teen athletes. All it takes is one wrong move during the game or practice to ruin the rest of your season.
"I remember in 2009 I tore a tissue in my elbow and had to bench for the rest of the baseball season. Its the worst feeling ever to watch my team win and lose without me," confesses sophomore Joseph Alturo.
According to Fox News,the five most common injures that occur to young athletes is knee injuries, ankle sprains, strains and overuse of muscles, stress fractures, and concussions. Even the slightest injury can impair an athlete for their season or be the determining factor of whether they will walk pain-free later in life.
"Last year I tore my ACL. Worst. Thing. Ever. I was out for six months, which means I basically benched my entire soccer season," complains sophomore Sofia Valles.
An ACL (anterior cruciate ligament) tear can lead to the end of a whole season for an individual athlete being over. The ACL is the ligament that maintains the knee's stability.  The injury can happen when your foot is firmly planted on the ground and a sudden force hits your knee while your leg is straight or slightly bent. This type of injury is common in soccer, skiing, football, and other sports with lots of stop-and-go movements, jumping, or weaving.
"My advice to any athlete who is injured and ends up benching is to take that time to heal and be ready for the comeback. Believe me, you'll be even stronger after you allow your body to heal," advises Certified Nursing Program Leacher Ms. Jan Monroe.
I also have a fear that my constant aches and pains or minor injuries will eventually take a toll on my body later in life. I think you pay a price for playing sports even if you don't have a major injury because when you start at a young age and play sports through your mid-20s, you have substantially affected the nature of the joints. This causes a very specific and dramatic effect on the joints later in life.

Loading ...
From my experience of being benched due to an injury, the best thing to do is to rest and accept the fact that my body needs to take time to heal. Its hard for me to sit on the bench while my team plays the final few games left in the season. When they win a game, I'm proud of them, but an overwhelming sense of unimportance also affects me because I feel as though my team doesn't need me.
For the remainder of my season, I will continue to support my team and allow my injury time to heal, but I definitely won't happy about it.
Stupid fractured ankle…