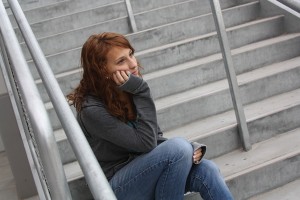 The summer before my senior year, I applied for a part-time sales associate job for a clothing store that was opening nearby.  Back then, I only wanted a job in order to save for future expenses, especially for senior year and college.  I had no intentions of keeping the job once school rolled around, because I knew I would have time restrictions due to the alarming amount of responsibilities I already have.  Still, I wanted to see if I could manage balancing both school and work, so I gave it a try.
Seven months later, I am still employed, but I am now experiencing all the hardships of this added responsibility. People ask me, "How do you do it? How can you still manage to stay on top of your four AP classes, homework, and yearbook while you have work?"
Honestly, balancing my job and making sure I'm still doing my best in school is probably the most exhausting experience I've encountered so far.  Every day, I am always busy: rushing to school in the early morning, staying after school for extracurricular activities, attempting to finish my assignments before work, leaving to go to work for four or five hours, and then coming back home to complete the rest of my homework.  It's so hectic, and I constantly feel like I'm trying to finish before the clock strikes twelve.
There are 24 hours in a day, but I can only wish for more hours and energy.  These days, it seems like I don't have enough time to study, eat, sleep, or hang out with my friends.  I've seen my grades suffer because I was too tired from the day and I can't retain information from my studies.  I've seen my health suffer the most because of the lack of sleep I earn every night.  My friends' schedules usually do not match up with mine, so I can't even have an hour or two of leisure time.  I am constantly stressed; each second I think, "Do I have enough time today to do this? What about that? How can I finish everything that I need to do?"
From an outsider's perspective, one might suggest that the easiest solution to all of my problems is to quit my job. It seems easy enough, but I can't just leave. I wanted to work so I could be one less burden to my parents financially. Plus, college is expensive and quickly approaching, so I want to save as much as I could for it.

Loading ...
I write this for all students who so badly wish for a job; please understand that you will be stretched thin.  You are going to have to learn to prioritize and sacrifice the unnecessary parts.  There will be times when you lose all motivation, but still try and continue to give your best.
Even though having a job adds extra stress, I only see it as a learning opportunity, a stepping stone, to what I might have to experience in the future.  The skills I have acquired will be extremely beneficial, and it will allow me to face bigger obstacles in my future career.