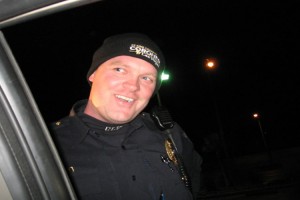 How distorted is the world if our heroes are known as the enemy? No one says anything about firemen, EMT's, or the U.S. Military, so why are policemen and women the ones who take the bullets and the blame?
Over the years, the police department has gained a reputation of being the 'bad guys.'  Society is quick to judge, but police are the first to respond in an emergency situation. The American public has turned everything backwards; in reality they're not the bad guys, they're the heroes.
Police enforce laws.  The laws people break everyday are not rules the police department created because they felt like it. They are laws the Federal Government implemented to keep people safe. These officers have graduated from a 6-9 month academy to prepare them to properly handle certain situations.  On top of that, they complete annually, sometimes monthly, courses to maintain their skills.
As a daughter of a police officer, I find it completely disrespectful when people talk about cops the way they do.  My father keeps this city safe from criminals.  I log onto Facebook to see explicit comments about police officers and I cannot help but wonder what causes so much hatred.  Though inconsiderate and ungrateful people make these comments, it's still upsetting.
And when thinking about all of the criminals they have to deal with on a daily basis, it all makes complete sense why police officers might have an uptight attitude when making personal contact.

Loading ...
Once we move past the inconsiderate remarks, we can think about the real issue at hand: at the end of the day, there is a chance that these officers might not return home to their families. They risk their loved ones everyday to keep our streets safe.
So, the next time you have a feeling that someone is breaking into your house or you were just a victim of a hit and run, think about whom you're calling when you dial 9-1-1.  The men and women who are risking their lives for you are the same people you've been badmouthing.  They put their life on the line, to save yours.