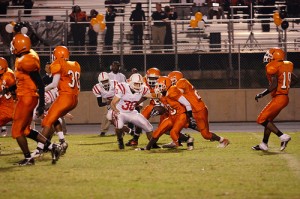 Many schools around the valley, such as Desert Oasis High School, offer an array of sports for students to participate in. These sports allow competitions and games against other schools in Las Vegas. Southwest Career and Technical Academy is a vocational/magnet school that does not offer the same opportunities pertaining to sports.
Mr. Joseph Price, a Freshman Studies teacher and sports enthusiast, was very supportive of the subject, "I think sports would be a great thing, you know, for the kids. The kids, first off, love academics here. Sports would just be a bonus."
Many others seem to have the same positive ideology when it comes to sports. A recent study conducted by the Women's Sports Foundation shows that female athletes are 92% less likely to get involved with drugs, 80% less likely to get pregnant, and are three times more likely to graduate than those not involved in school sports.
When asked about how sports contributed to his life, Mr. Price answered, "It kept me out of trouble for the most part. It's a way to be a mentor for the youth."
Morgan Johnson, an avid soccer player who participates in recreational soccer and is a student at SWCTA, was excited at the prospect of having sports at SWCTA, "I just really love soccer. It gives me self-confidence and I feel like a well-rounded person. If they offered sports at SWCTA, that'd just be awesome."
Sports seem to be what gives kids the extra motivation needed to be well-rounded individuals. It encourages students to keep their grades up, stay out of trouble, and it looks impressive on a university application along with a vocational/magnet school diploma.  Students from all around the valley may be more inclined to come to SWCTA if sports were available.
SWCTA offering sports seems to be what students want. Combined with the impressive Southwest Career and Technical Academy, sports will impress any future university. Next time you think jocks aren't so smart and important, think again.