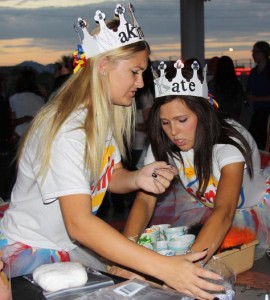 After three long years, Southwest Career and Technical Academy had its first graduating class—the class of 2012. From the budget cuts march to senior capstones, they certainly have left a mark for future students at SWCTA.
And while few may be the future leaders of America, SWCTA's class of 2012 missed one important aspect of the senior experience—their spirit. Don't misunderstand us though. The class of 2012 did have their three big moments this past year, starting with Senior Sunrise, then grad night, and ending with Senior Sunset.
A senior week took place in May, but the news surprised many juniors, underclassmen, and a few teachers because of the lack of participation and promotion that may have resulted from worrying about being in trouble. Additionally, the majority of high schools have at least a singular senior prank at the end of the year. To avoid any trouble, students could have told one of their more favorable administrators what they were planning to do, similarly to what East Career and Technical Academy did.
Whether it was one of the symptoms of senioritis or general laziness, they were not active in commemorating their last year in high school through spirit and traditions like other schools or graduating classes.
Unlike the class of 2012 however, the class of 2013 intends to bring more school spirit and livelier traditions during their senior year. As far as events go, there are several ideas including the usual Senior Sunrise and Senior Sunset, grad night, a senior week with more participation,  "Mr. Coyote," and a crown-decorating day.

Loading ...
This year, Senior Sunrise did not have any specific traditions, but the Class of 2013 did make it memorable, with fun games, the chance to decorate their crowns, and the ability to converse with their friends. Simple things like this make the best memories.
Looking forward the year, several senior shirts will also be available for purchase. The first one was based on the Burger King symbol to display senior seniority, and was handed out to those who purchased it during Senior Sunrise.
Though a few of these ideas may or may not be used, it still shows the curiosity and willingness of the soon-to-be seniors to have more school spirit. With the immense amount of creativity and responsibility in this class, better, newer, and fun traditions are sure to arise.